There are many new fundraising ideas for nonprofits today.
But with the growth of the internet, Crowdfunding has become a popular way to fundraise for many nonprofits.
And not without reason – it would seem people on the web are extremely giving.
For example, nonprofit crowdfunding platform YouCaring has raised over $1 Billion for their nonprofits (YouCaring has also charged $0 in fees for their services).
And now, you can start your crowdfunding for your nonprofit organisation in a matter of minutes.
However, if you want to give your organisation the best shot at fundraising, it is worth spending some time to do your campaign right.
So let's get started.
One Of The Best Fundraising Ideas In 2018: Crowdfunding And How It Works
Crowdfunding platforms allow nonprofit organisations to create their own fundraising campaign, usually free of charge.
Once the campaign is created, users can visit the crowdfunding page to decide whether they would like to pledge (donate) some amount to the cause.
Users can donate / pledge their money until a set date (and every campaign must have a end date). But after this date is past, the campaign will close and will no longer be able to accept pledges.
Usually, these users will receive some sort of tiered reward system, based on how much they have pledged.
These rewards are set by the fundraiser and exist to motivate users to pledge more.
Once the campaign ends, the funds are transferred to the fundraiser, minus some fees (credit charge and platform fees).
Which Crowdfunding Platform Should You Use?
There are many crowdfunding platforms out there. But for the purposes of this article, we will focus on the Australian Crowdfunding platform, ReadyFundGo.
ReadyFundGo (RFG) are based in Australia (as are most of the users).
However, note that ReadyFundGo (RFG) charges a 5% fee on funds raised on their platform (click here for full details on fees).
But the advantage is that there are more Australian users on RFG, so would be suitable for organisations with a local focus.
RFG does not charge fees if funds are not raised.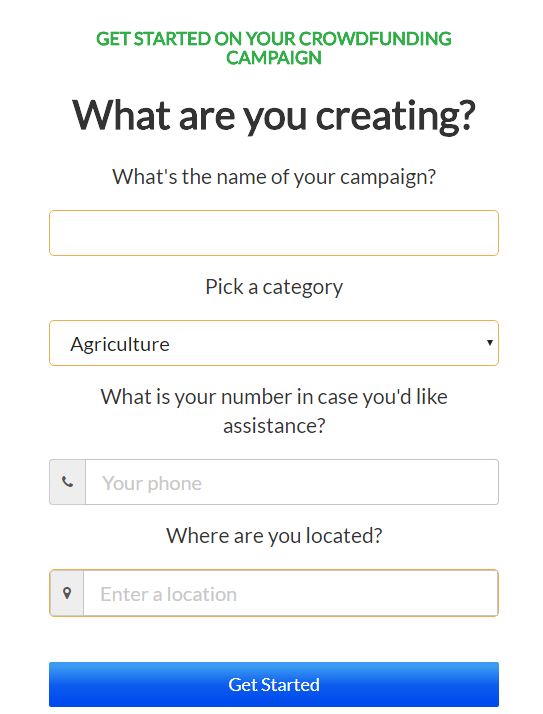 How To Start Your Crowdfunding Campaign
Click this link to go to the ReadyFundGo page and register
Fill out the details of the campaign form (these details can be changed later)
After registering with your email, you will be redirected to a Manage Campaign Page (your campaign will be in "draft" mode until you submit it to be published).
From here, you will need to fill out various aspects of your campaign to provide information for people who wish to pledge to your cause.
How To Ensure Your Campaign Gets Noticed And Funded
We will go over the key details to fill out, in order to improve your chances of getting more funding.

The "Details" Page
The following details can be updated in the Details Page of your Campaign.
1. Name your campaign with a great headline that grabs attention
You can use up to 60 characters in your Campaign name – we recommend using all 60 if you can. Here are some ways you can come up with a good headline:
Include a reason why people should click to learn more. Remember, at this stage we're not trying to get them to pledge. Rather, we just want the users to click the headline so they will be directed to your page to learn more.
Include the reason why your cause is important
Curiosity is a great way to make people read headlines
Examples of a good headline:
"Aussie kids need your help – cancer is ravaging their lives"
2. The Short Campaign Description
Imagine the Short Description as a continuation of your headline. You should expand on your reasons why people should click through and learn more about your cause.
Focus on talking about the problem your cause aims to solve, not about why your organisation requires the funding (these details can be discussed in your main page).
This is because at this stage, people who are scrolling will be more likely to click through to social problems / issues they can identify with.
3. Choose A Good Featured Image
If possible, select an image that has people in it (close up faces if possible). Otherwise, the image should add / relate to your Headline and Short Description.
4. Campaign Fund Type
In most cases you'll want to go "Flexible."
"Flexible" will allow you to receive the funds, even if the goal is not met.
Under "All or Nothing," you will only receive the funds raised if the goal is met.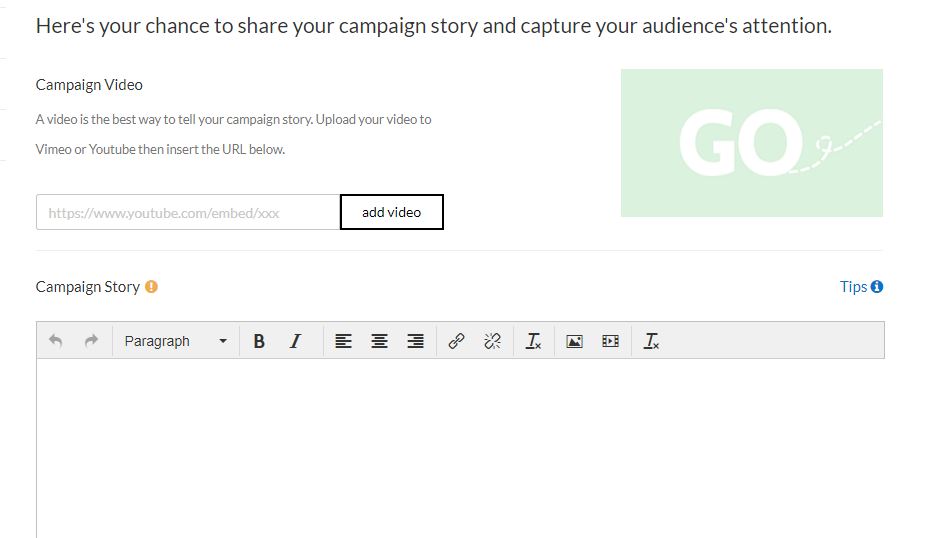 The "Story" Page
This is where the majority of your focus should be because it's where people will decide if they want to pledge to your cause.
1. Video
Link to a Youtube or Vimeo video if you have one that tells your organisation's story. Avoid using a video if it is not relevant to getting people to pledge to your cause!
If you don't have a video you can use, gather some images and create a slideshow video.
Then, narrate over the video with an audio recording by reading your main campaign story out loud.
2. Campaign Story
This is where you'll want to fill in all the details of how your organisation started, what the main problem is and why you need funding.
Imagine this section as a letter you are sending to a friend, and trying to get them onboard with your cause.
Here are the key elements (in order) that your story should have:
Your organisation's story (how you got started, challenges you've had to overcome, where you are today)
Outline the major problem your organisation is trying to solve. Emphasise the importance of the problem with facts, statistics and how it is relevant to the reader.
Explain how your organisation plans on solving this problem
Give reasons why you need the funding
Explain specifically how the funding will be used
Explain how the reader can help and why this cause is important to them as well. Try to invoke their emotions and help them empathise with those that need the reader's help.
Sign off with your name
Additional tips for writing a great campaign story:
Keep sentences short to make it easy to read – use the Hemingway Editor and make sure your Readability level is Grade 7 or below.
Add photos / images where relevant
Give as many reasons why your cause should be important to the reader and invoke their emotions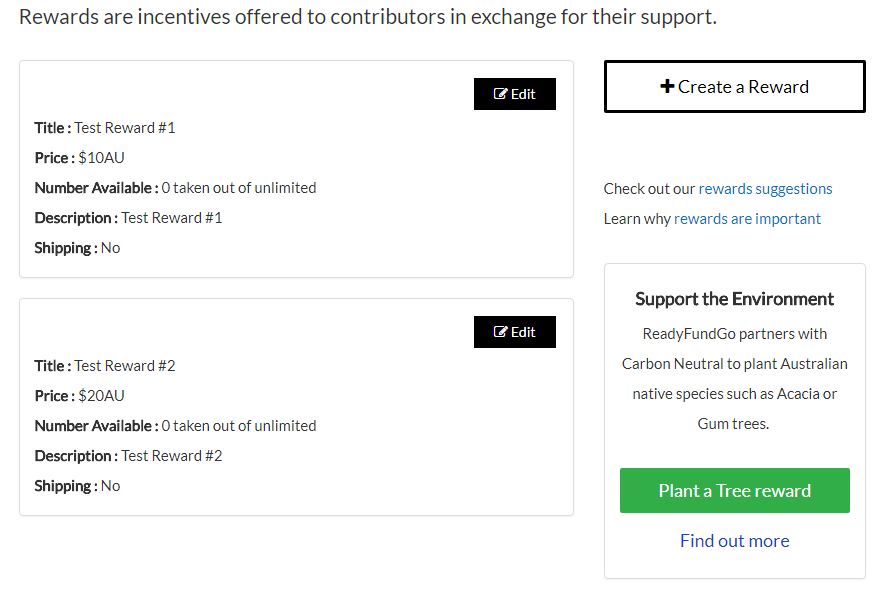 The "Rewards" Page
On the rewards page, you'll be able to create tiers of rewards for different levels of pledges.
For example, you could send out "Thank You" postcards for those who donate $10. But for those who donate $50 or more, you could give them T-Shirts and so forth.
It is important to have several tiers of rewards (shoot for a minimum of 4 tiers), as it will increase your likelihood of receiving larger pledges.
Remember, though people are giving for charity, they are still motivated by self-interest!
For more information on rewards, check out ReadyFundGo's reward suggestions.
How to create multiple rewards in the "Rewards Page"
Write a good title that describes the "group" of people
Set the Price of Reward (how much people have to pledge). You can set a limited amount of spots if you like. This feature is useful if you have a limited amount of rewards you can give out (e.g. T-shirts)
Select a reward image that shows off what the reward will be
Type a short description of what people will get and all the benefits of the rewards they will receive
Click "Save"
Click "Back"
Click "Create a Reward" until you have at least 4 tiers of rewards
The "Get Paid" Page
This is where you'll need to create a Stripe account so you can get your funds.
The "Extras" Page
You can connect your Google Analytics or Facebook Pixel to your crowdfunding campaign.
If you will be advertising your campaign on Facebook, we highly recommend connecting your Facebook Pixel so you can use the powerful retargeting features.
The Submit Page
Once you've filled out all your campaign details, you can submit your campaign!
Driving Traffic To Your Campaign
In most cases, the organic traffic alone on ReadyFundGo will not be enough to raise the money you need.
You will need to drive external traffic to your page via your website, email list / mailing list, Facebook Page etc.
Encourage your friends and family to share the link to your crowdfunding page on their social media accounts!
You can also apply for Google's $10,000 per month Grant and use Adwords to drive traffic to your crowdfunding page.
In Conclusion
We hope this article has given you a new perspective on the many fundraising ideas out there.
Crowdfunding is one of the hottest online fundraising methods in 2018, and we expect it to be so well into the future.
We also hope you found this article useful and wish you the best success in your crowdfunding efforts!