Specialists In Web Design For Healthcare Providers
Web 105 is a specialist, full-service Web Design Agency that develops beautiful but also functional websites for Healthcare Providers.
We understand that you need more than just a website – you need to be driving enquiries with an easy-to-use website for your clients and patients.
Because we take a full-service approach, we always begin our conversations with a discussion about your goals and advise you on how your website will play a part in achieving your mission (borrowing from our 14 years of experience).
How can Web 105 help your Business?
We're different from other web agencies because we specialise specifically in developing websites for Healthcare Providers and support all your Web and IT related needs.
This means we:
  Focus on tangible returns. We measure data-driven results and understand that your website is an asset – it should bring you a positive ROI after the initial investment. Because of this, our web designers not only build great-looking websites, they are also savvy online marketers.
  Design fast, mobile-responsive websites. Approximately half of your visitors will be using a mobile device like a smartphone or tablet, so we always provide a mobile-friendly website at no extra charge.
  Provide all-in-one Web Hosting, managed in house by Web 105, with a high up-time and fast response if there is a problem.
  Provide Web Security that will protect you from 99.998% of online attacks – we take security seriously and have invested our time and resources to make sure your website is safe from malicious hackers.
  We take charge of all IT related aspects, so when you team up with us we'll provide database hosting, back up solutions and SSL certificates for you.
Clients we've worked with: Macquarie University Hospital
Macquarie University Hospital (MUH) provides a wide range of Healthcare services and we made sure to build a website that reflected this.
Web 105 also developed a dynamic website that could easily be updated by the MUH team, without needing to learn technical details. With this feature, they are able to create their own news stories and content to keep their visitors updated.
In addition to this, we have integrated their social media accounts with their website, ensuring that the have full integrations across different platforms.
You can view their website here at http://muh.org.au/
Features We Can Develop For Your Website
There are a lot of things you can do on the web – whatever your requirements are, we can set it up for you.
For example, we can:
  Set up payment facilities so you can receive payments online
  Develop visually stunning websites to convey professionalism and make it easy for your visitors to find the information they need.
  Provide designs that suit a wide range of clientele and healthcare industries.
  We make sure that your website is "SEO Friendly" so you can rank better in the search results, which results in increased traffic for your business.
Clients we've worked with: One Cosmetic Foundation
For One Cosmetic, we designed a website that conveyed professionalism and used appropriate colour schemes that reflected this.
We also equipped the website with full booking fuctionality and a mobile version that would be easy to navigate for users with smaller screens. Additionally, we provided a "click to call" function that allows visitors on smartphones to call immediately from their devices without having to input the numbers.
The One Cosmetic website also features videos from their surgeons to provide information to their visitors – videos are an important element that often drives more enquiries.
You can view the live version of their website here: https://onecosmetic.org/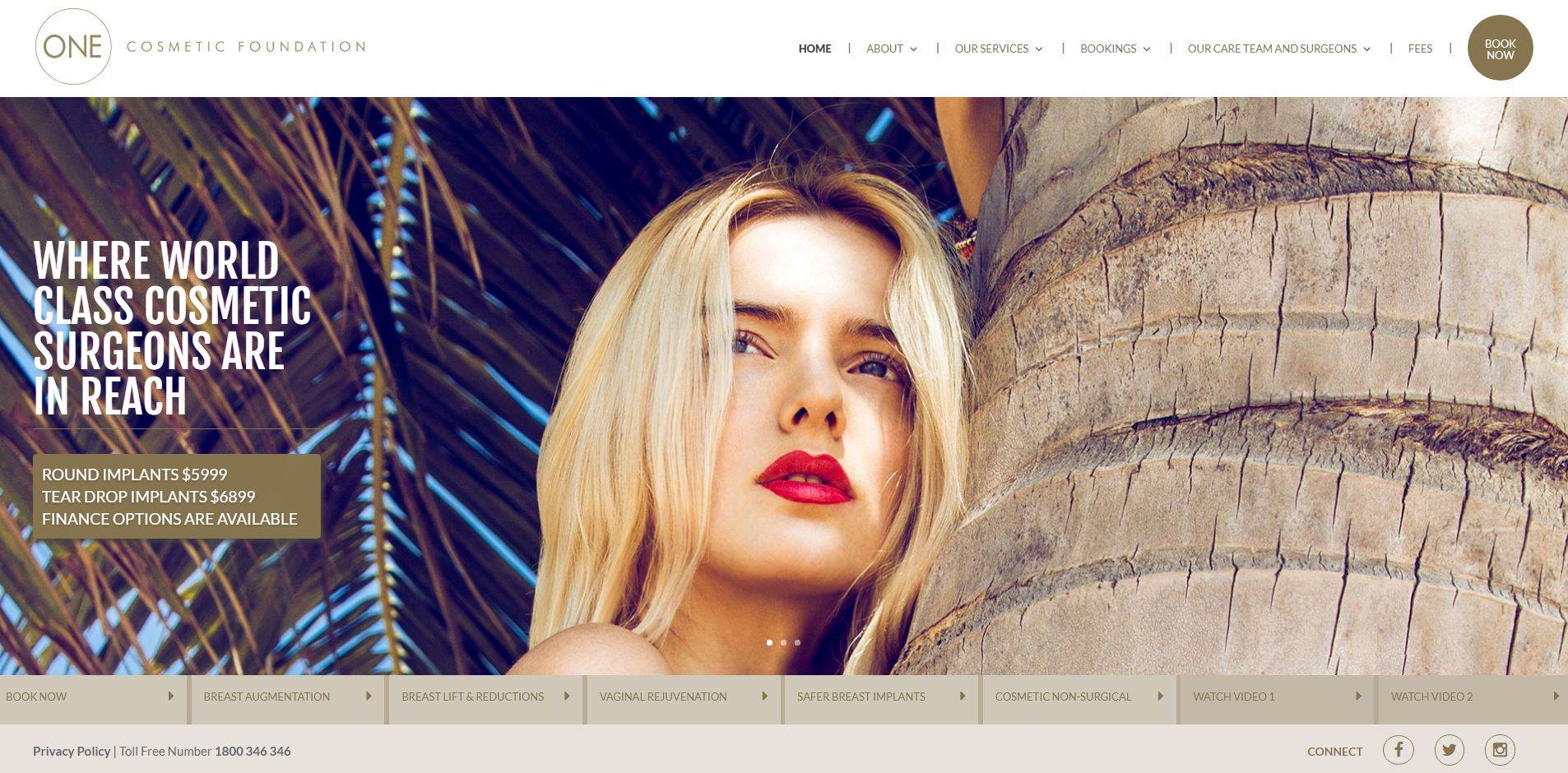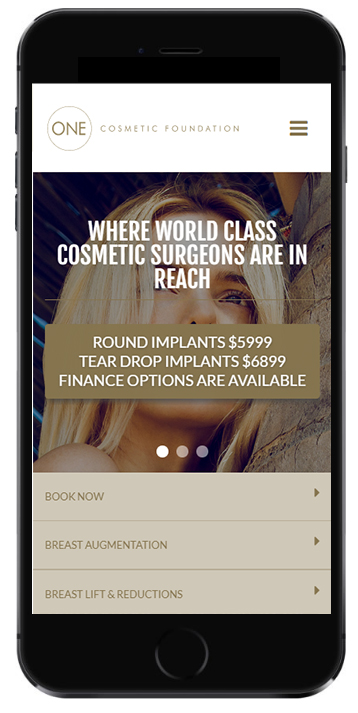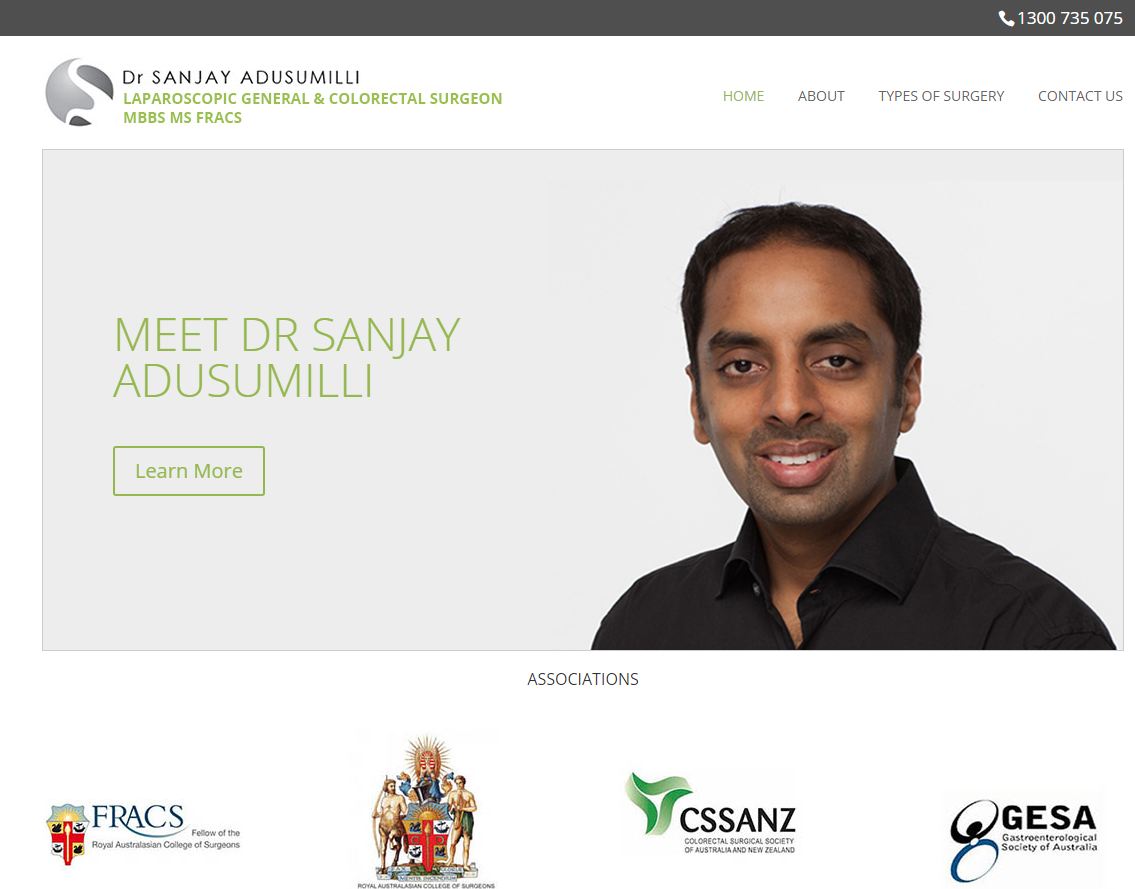 Clients we've worked with: Dr Sanjay Adusumilli
Web 105 also develops websites for individual doctors. One of our clients is Dr Sanjay Adusumilli who we developed a simple but elegant website.
With these types of websites, we focus on driving enquries from potential patients or clients who are looking for a more personal touch with their doctor.
You can view the live version of the website here: http://drsanjay.com.au/
Clients we've worked with: Dr Timothy Steel
Dr Timothy Steel is another individual surgeon who we developed a website for and focused on providing information to visitors on the kinds of surgury he specialises in.
In our experience, we have found that having an individual website is a great way to build repertoire potential clients before they come in to meet you.
We have also found that this is especially important in the Healthcare Industry as patients tend to do a vast amount of research, as it concerns their wellbeing and health. A website is a great way to convey this information as it can be viewed in a variety of mediums such as articles or videos.
You can view Dr Timothy Steel's website here: http://www.drtimothysteel.com.au/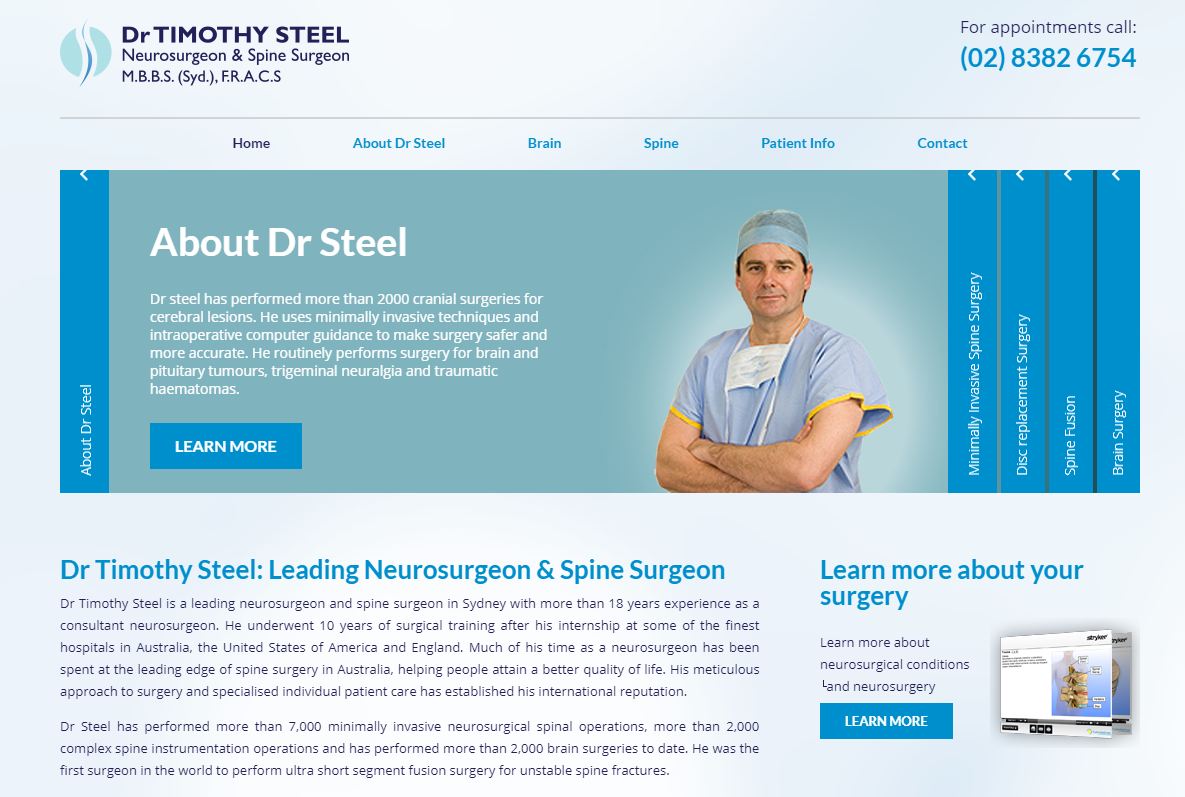 Get in touch
Do you need your website designed?
Or if you feel unsatisfied with your current website, please act now and contact us.
We genuinely would like to have a discussion about your goals and figure out if we're the right fit for each other.