A new social enterprise certification has been launched in Australia by leading organisation, Social Traders.
This certification is a banner under which other social enterprises (SE) can band together. The goal is to enhance SE awareness and improve their chances of winning commercial procurement contracts from government and other businesses.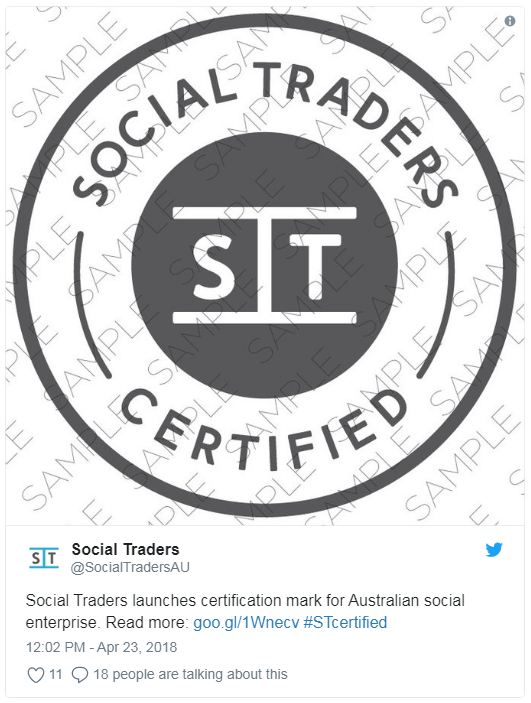 David Brookes (Social Traders managing director) says:
"Overall, Social Traders certification is designed to create a more well-defined social enterprise sector and greatly enhance opportunities for growth…"

"Until now, the social enterprise sector has been loosely identified with no single definition. For us, social purpose is the primary criteria and as such recognition via Social Traders certification makes it easier for business and government to buy from these social enterprises."

"We are certifying enterprises that meet a definition, which closely aligns with international standards. We aim to provide credibility, and share the awareness and trust that lies in the reputation of Social Traders."
There are approximately 20,000 social enterprises operating in the Australian market, so this certification may help these organisations team up with like-minded people.
Social Traders announced recently that they would be focusing on job creation with estimates saying that 1.5 jobs could be created for disadvantaged Australians, for every $100,000 spent on social procurement.
Brookes also said:
"We are seeing increasing demand for social enterprises from government and from private sector buyers. We are on a very positive trajectory and I'm confident that Social Traders' targets will be met.

"Certification is absolutely critical and I think that our certification will become increasingly important for social enterprises to be recognised and to actually win and deliver on these emerging contract and procurement opportunities."
A key challenge for social enterprises today is building commercial credibility with buyers.
Scott Buckland (general manager of Yarra View Nursey, who employs people with intellectual disabilities) says that the Social Traders' certification would help build this credibility.
A common objection that most social enterprises experience is that buyers often doubt the social enterprises' ability to deliver.
Having the Social Traders' certification would certainly help overcome this doubt, says Buckland.
To apply for this Social Traders' certification, click here.
To read the full article, click here.