For years now, ONE Cosmetic Foundation has been offering dermatology, wrinkle eradication, and plastic surgery services to customers. Established as a not-for-profit healthcare organization, the team behind the ONE Cosmetic Foundation has been driven to become the pacesetters of innovation and caregiving in the cosmetic surgery industry.
They have taken the initiative of educating their clients and partners about all of their procedures through their well laid out and user-friendly website at safebreastimplants.org.au. Learn about the organisation's commitment to upholding the highest safety standards in the industry in their About Page. The services offered can all be found in the Services menu where clients can also learn about the ONE CARD which is reserved exclusively for patients and will unlock many deals and special offers. Clients can also know what to expect with the detailed pre-surgery procedure; these have been outlined from booking to the time the patient undergoes the selected procedure.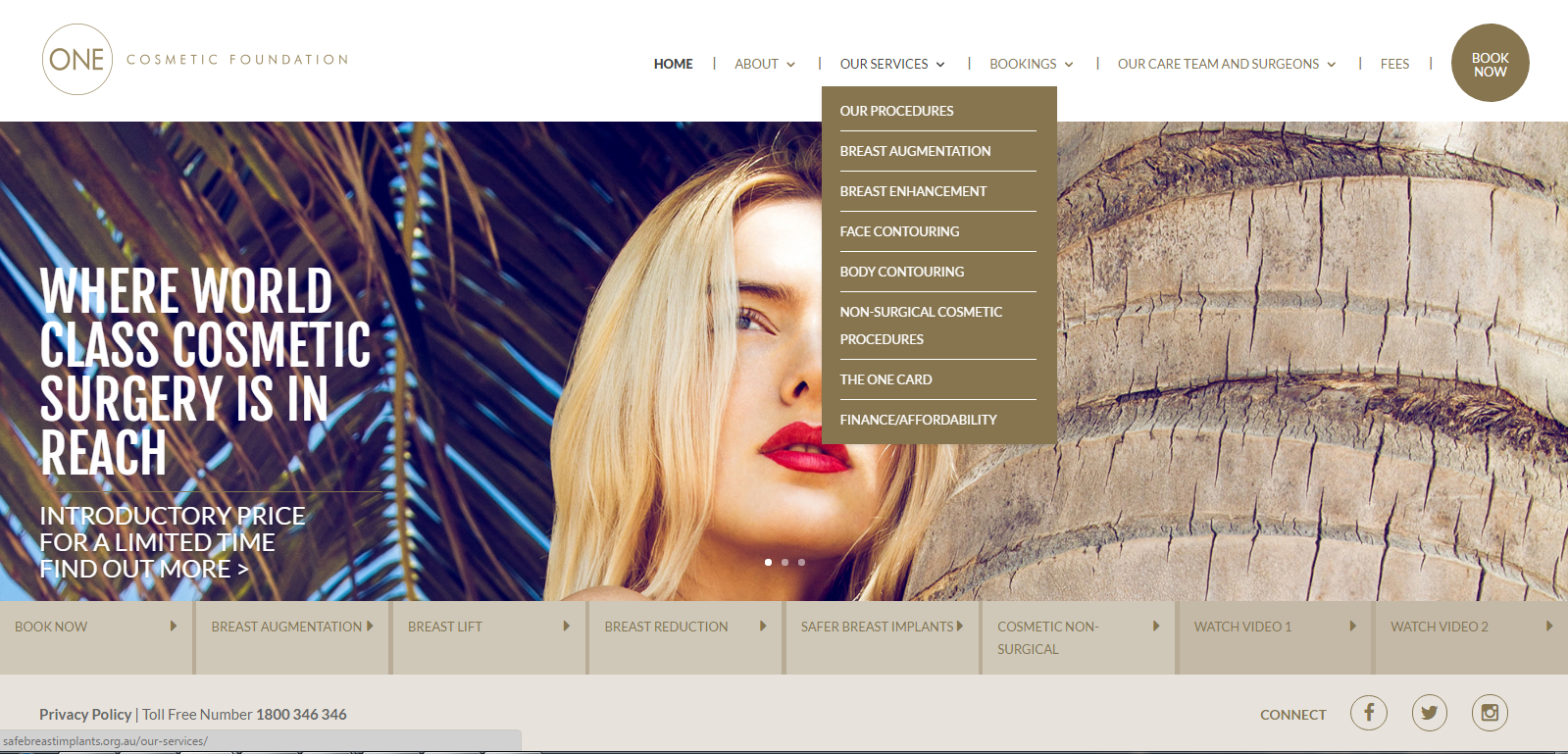 Short informational clips have been added by Dr. Louis Wessels and by Prof. Anand Deva sharing what they do and their love for their work. Get to know the staff who will assist the customers to the road of confidence. The client will be introduced to the team of surgeons, their qualifications, where they studied and from the brief bios, one can also see the kind of experience they have.
Everything is allayed on the homepage. ONE Cosmetic has a very active social media presence and patients can follow them on Facebook, Twitter, and Instagram.
Being a not for profit organization, OSF wanted everything to be transparent. From the procedures to the fees, the website's aim is to share the needed information so that the clients do not book for any surgical or non-surgical procedure blindly.
Working with the OSF for their site, safebreastimplants.org.au, we understood that our client wanted an informative website with a very simple user interface that would appeal to people. We are proud to be associated with ONE Cosmetic Foundation and we are honored that they contracted us to design their website for them.
Contact us today for a quick quote on your website design and needs.