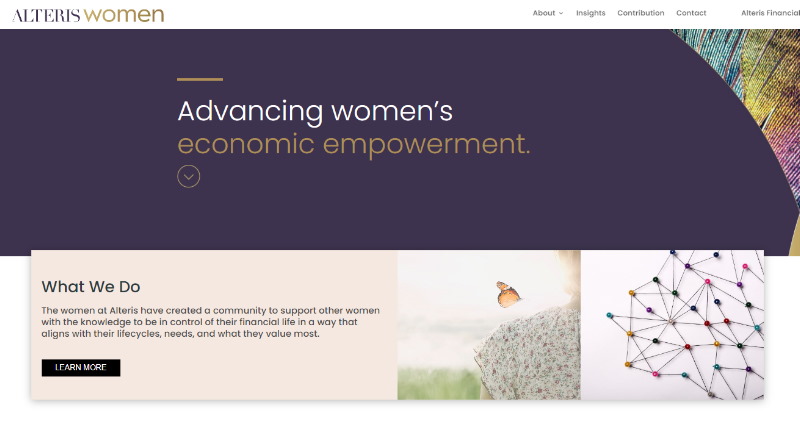 The Client
Alteris's mission is to help women feel economically empowered by providing them with the tools, knowledge and resources required to become financially confident. Comprising a team of highly qualified, financially experienced and successful women, Alteris aim to use their collective wisdom and expertise to help women feel economically empowered, wherever they are in the world.
"I have continued to work with Web105 on all the Alteris rebranding work as well as new business ventures (Alteris Private) and our most recent community, Alteris Women. Ben and his team are efficient, very responsive, and build websites that are easy for clients to use. They are a trusted supplier of ours, so I don't hesitate to recommend them as part of your network."
The Brand
Many websites offering financial services are not particularly exciting, preferring to focus solely on the services offered, rather than presenting those services in an appealing way.
Our clients at Alteris Women wanted a stylish, professional website to promote their financial services on. However, it was also important the website appeared welcoming and easy to use.
Alteris Women sought the help of Web 105 Creative to design a website that struck the perfect balance between professional and approachable.
The importance of having a professional looking website cannot be understated. When a website is designed in a thoughtful and aesthetically pleasing way, it evokes an emotional response in customers.
Essentially, beautiful websites are seen as easier to use and more trustworthy. Furthermore, the products and services offered by a beautiful website are viewed as being of greater value and importance than those within their poorly designed counterparts.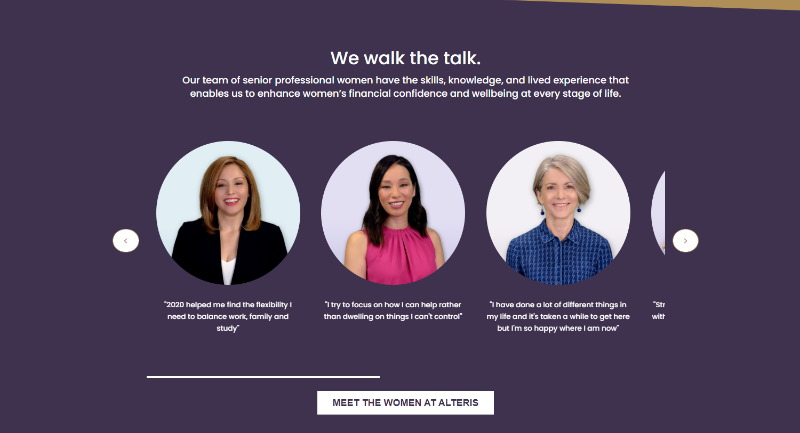 Alteris Women have a strong brand, focusing on abundance, prosperity and wealth. There is a distinct sense of luxury and class a customer will feel when they initially land on the homepage.  Alteris Women's website is easy to navigate and thoughtfully laid out. Customers can quickly absorb important information quickly, without feeling overwhelmed or as if the content has been oversimplified. 
Overall, Alteris Women's website is professional, sleek and aesthetically pleasing. The website successfully meets Alteris Women's brief and has been well received!
Get in Touch
If you would like to learn more about our web development services, get in touch with us today!